All Articles
Meta Quest 3: The future of MR Real Estate marketing
The mixed reality world is on the verge of a major innovation, and Meta is bringing it to market with the Quest 3. These MR goggles promise not only exciting technical improvements but also an immersive MR experience that fuses gaming and reality in a whole new way.
Price and Availability
The Meta Quest 3 has been available for pre-order since 27 September and will be shipped from 10 October. Two different variants are available: one with 128 GB and one with 512 GB. For US customers, the Quest 3 costs 500 USD and 650 USD respectively. German customers will pay 549.99 euros and 699.99 euros respectively. Due to its more advanced technology, the Quest 3 is more expensive than its predecessor, which is why sales of the Quest 2 will not be discontinued for the time being.
Improvements in Overview
The highest resolution display of any meta-glasses: With pancake lenses, it offers a 40% sharper image than the Quest 2.
Field of view: The field of view of the Quest 3 has an area of 110°H X 96°V, while the Quest 2 only has 96°H x 96°V.
Stepless IPD controller: This provides better viewing comfort. Overall, the IPD control has a range of 53-75 mm, which is a significant difference from the Quest 2.
Touch Plus Controller: These new controllers are more ergonomic and no longer require tracking rings. They will likely have replaceable batteries and support improved TruTouch haptics, first used in the Meta Quest Pro's Touch Pro controllers.
Charging Dock: Contacts for a charging dock can be seen in the Quest 3 teaser, providing a convenient charging option, unlike the Quest 2, which could only be charged via cable.
Resolution: The Quest 3 has a single LC display with a resolution of 2,064 x 2,208 pixels per eye – about 30% more pixels than the Quest 2.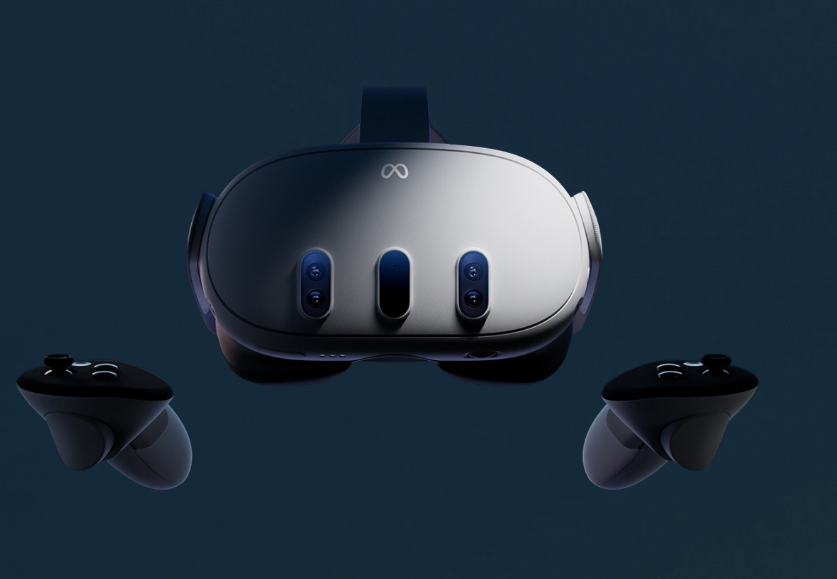 Powerful Snapdragon chip: Developed in collaboration with Qualcomm, the next-generation Snapdragon chip promises twice the GPU performance of the previous glasses' Snapdragon XR2.
New cooling solution: An improved cooling solution contributes to an improved performance of approx. 26%-45%
Slimmer profile: The Quest 3 has a 40% thinner profile than its predecessor, which means not only a better look but also an improved wearing experience.
New sensor architecture: The two pill-shaped protrusions on the side of the headset each get a 4-megapixel RGB sensor and a tracking camera. These new RGB sensors enable color passthrough and provide 10 times higher passthrough resolution than before. The middle pill houses a depth sensor for enhanced mixed reality and automated spatial scanning, making the glasses even easier to use.
Customisable accessories: The Quest 3 is the first Meta VR headset to have accessories in different colours (black, blue and orange). Available are the Elite Strap, Silicone Facial Interface which protects the headset better from sweat, Facial Interface with Head Strap as a cheaper alternative to the Elite Strap and Active Straps for Touch Plus Controller. There is also a Charging Dock, an Elite Strap with battery and a link cable.
Spatial Data collection
One of the most exciting innovations of the Meta Quest 3 is the ability to collect spatial data. This allows the glasses to recognize the layout and nature of spaces and identify and distinguish objects within them. However, to use this feature, permission must be given to each individual app.
New types of Spatial Data
Meta Quest 3 supports three types of spatial data:
Scene Data: A simplified model of the surrounding space.
Mesh Data: Information about the shape and structure of physical objects that enables realistic interactions between digital and physical objects.
Depth Data: Information on distance between objects, enabling a realistic representation of digital objects in space and obscuring them by physical objects.
The Quest 3 is the only VR goggle that supports all three types of spatial data, thanks to a new depth sensor that enables accurate mapping and spatial measurement.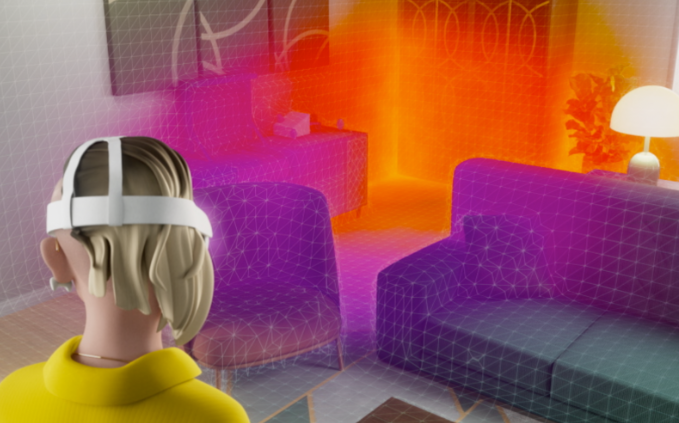 More information
The battery life remains at approx. 2 to 3 hours.
Wearing prescription glasses under the VR goggles is still possible
The Quest 3 is fully backwards compatible, so all software from older Quest goggles will also run on the Quest 3. There are already more than 500 VR apps and games for the glasses, and Meta plans to release 50 more new apps and games that include mixed reality experiences that take advantage of the new hardware's strengths.
All Articles