In recent years, a wave of rising interest rates for real estate financing has had a significant impact on the dynamics of the German real estate market. After a long phase of low interest rates, which drove the buying and selling of real estate, the turnaround in interest rates brought with it a noticeable cooling of the market. As a result, property prices fell in many German cities as higher borrowing costs deterred potential buyers. However, a new trend now seems to be emerging: a phase of stabilization that is making buyers and investors alike sit up and take notice.
Even Munich, which is known for its robust real estate market, has not been spared falling real estate prices. Nevertheless, Munich remains the most expensive metropolis in Germany. While the price per square meter for houses here has been rising steadily for years, the price per square meter for apartments fell minimally for the first time compared to the previous year.
Price Stability in Germany
After the turbulence of the recent past, the German real estate landscape has adapted to the new situation. "Following the significant drop in prices in the fourth quarter of 2022, we are now seeing asking prices stabilize," explains Dr Gesa Crockford, Managing Director of ImmoScout24. This stabilization in the real estate market is significantly influenced by the current interest rate situation, while at the same time construction activity is lagging behind demand and sellers are gaining more room for negotiation through price discounts.
The expert explains that the visible price fluctuations – a slight movement in prices quarter-on-quarter – can be attributed to two factors in particular: the slowdown in growth in the new-build segment and a resurgence in demand. "It can be assumed that prices will continue to fluctuate slightly in both directions. However, I do not expect a significant price slide, as the demand for living space is growing and too little is being built," explains Crockford.
For buyers, this means seeing the current phase as a potential opportunity for investment, while sellers need to tailor their strategies to the existing market conditions.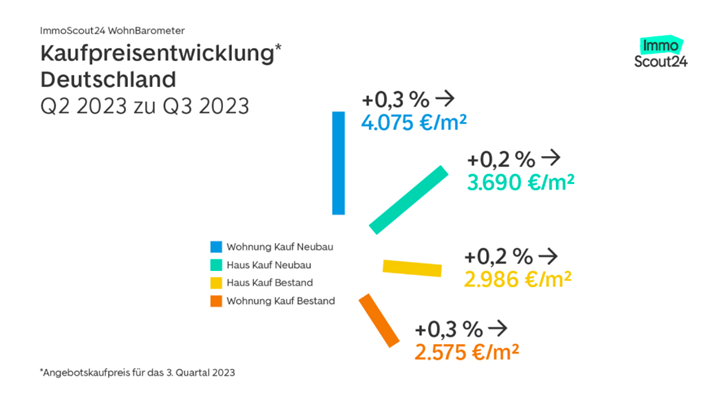 Price development Munich
Munich is maintaining its reputation as the most expensive place to live in Germany, even in the face of a slight price decline of 3.5% compared to the third quarter of the previous year. According to the semi-annual report from the Munich expert committee, the number of purchase contracts fell by 33% in the first half of 2023 compared to the first half of 2022. This resulted in a 42% drop in monetary turnover. Nevertheless, the asking price for new-build apartments in Munich remains high at an average of EUR 10,586 per square meter.
Detailed view of condominiums and houses
In the current development of the Munich real estate market, prices for new-build apartments and houses reflect a clear differentiation between residential areas and property types. For example, the average price per square meter for new-build apartments in average residential locations is around EUR 10,100, while prices in good residential locations rise to an average of EUR 12,600 per square meter. These figures make it clear that the value of a property in Munich depends heavily on the quality of the residential location and that there are also clear price gradients within the city.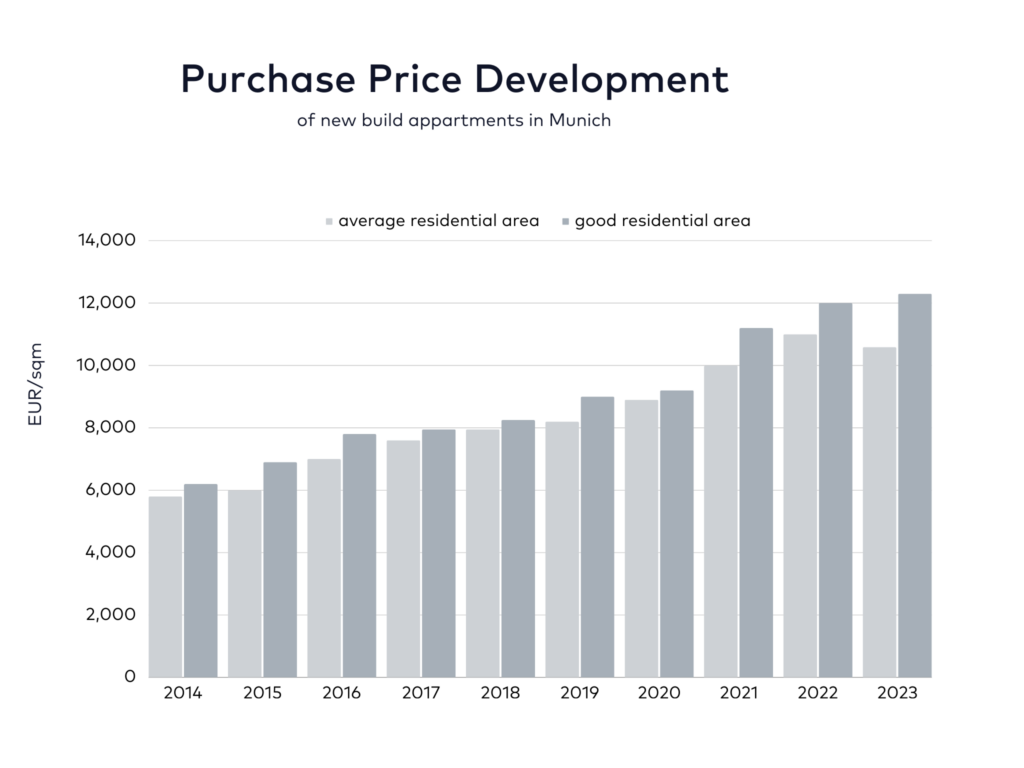 The housing market, on the other hand, is showing a positive price trend. The purchase price for houses rose by 2.84% year-on-year to EUR 10,252 per square meter. This figure reflects relative stability, although the quarterly analysis shows a slight decrease of 0.06% . For newly built semi-detached houses in medium to good residential locations, the price per square meter is up to 12,200 euros.
Regional differences within Munich
There are notable differences in the distribution of purchase price trends across Munich's districts. A general decline in average purchase prices is reported between the end of 2022 and the middle of 2023, with purchase prices in Au-Haidhausen, Pasing-Obermenzing and Obergiesing each falling by around 5 % compared to the previous quarter. In the Berg am Laim and Schwabing-Freimann districts in particular, there was an increase in purchase prices compared to the previous quarter.
Short and long-term prospects
It is important to note that the figures presented are only snapshots of Munich's dynamic real estate market. Long-term price trends in Munich are subject to a variety of factors, including economic conditions, the availability of new-build space, demographic developments and political conditions. Although a certain stabilization of prices can currently be observed, the longer-term forecast may deviate and should therefore be viewed in the context of broader economic developments.
Outlook for the Munich real estate market
In conclusion, the Munich real estate market remains highly dynamic and characterized by regional differences. The slight slowdown in prices may be a cautious signal for potential buyers to enter the market, although prices remain high compared to the national average. Developments in certain districts indicate that local factors such as infrastructure projects, demographic changes and the supply of available housing are decisive for pricing.
For investors and prospective tenants, this means that Munich remains an attractive and growth-oriented market despite the price corrections. Future price trends will continue to be closely linked to the overarching economic conditions and local construction dynamics. In view of the limited new construction and the continuously rising demand for housing, it is likely that the market will see strong demand in the long term.
A look into the future shows that residential space in Munich will continue to represent a stable investment. The importance of careful market research and strategic planning for success and satisfaction in real estate investments cannot be overestimated. Ultimately, it will be crucial for market players to observe trends, carefully weigh up risks and make far-sighted use of the opportunities arising from the city's natural development.
All Articles